Restaurant
Grande Italia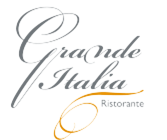 A few steps from the historic center, in front of the Medieval Castle and directly on the sea, the "Grande Italia" Restaurant offers a unique view of the enchanting Gulf of Tigullio and the Portofino Promontory in the background.

Ristorante Grande Italia opened in 1931, initially as a vegetarian restaurant. It has since then been a central point entertaining and feeding the famous guests of family-led Hotel Italia e Lido, from Ezra Pound to Aristotele Onassis. Over the decades, the restaurant has continued to offer the very best in fine dining, adapting itself to modern taste with a healthier, more natural, environmentally friendly kitchen.

Awarded with "Genoa Gourmet" and "Quality Brand" by the Italian Chamber of Commerce, Grande Italia presents exquisitely crafted dishes blending Ligurian, French, and Italian influences.
The local farmer's market and the fishy Mediterranean are the driving forces behind the seasonal, ever changing menu. Chefs Andrea Bruzzone and Daniele Marrocu are masters at maintaining the essence of ingredients while using them inventively to produce the best flavor. Luca Pascale, the maitre of the restaurant, presents clients marks of attention that accompany them throughout the meal.

The indoor and outdoor dining rooms of the restaurant are being renovated by Manuela Di Loreto, trying to maintain the allure of the past years with contemporary requests for service in a welcoming and elegant environment.

Impeccable service, tableside preparations and the breathtaking views of Portofino and Castello di all contribute to an unforgettable dining experience. In the warmer months, from the terrace, diners can enjoy the menu or simply sip on a signature cocktail from the bar. This breathtaking oasis has umbrellas covered dining tables shaded from the sun, but directly overseeing the waters of the Tigullio Gulf.

The Grande Italia Restaurant offers a three-course fixed price besides à la carte seasonal menu. The restaurant also offers lunch menus at a terrific price. The careful selection of Italian wines follows today's tastes, giving prominence to Ligurian wines.

It is also possible to host big venues, private functions for any occasion and large group lunches and organize cooking classes at certain times of the season.
---
Opening Hours:
Monday to Sunday
12.30 am-2.30 pm
7.30 pm-10.30 pm
# # #


For reservations and estimates call +390185271617 or send an e-mail to: ristorante@italiaelido.com
To get the latest news go to our facebook page facebook and instagram
---